Golden Crown Airport Hotel Macau                                    (last update September 2019)
This hotel can be found across from the Terminal building and offers great views of the airport. 
Location:
***
Located over the road from the terminal building only a five minute walk although a shuttle bus is available on request.
Spotting:
***
Ask for a runway facing room to get views of most of the apron and taxiway top the runway. Rooms in the range of **01-**19 between the 17th and 20th floors will ensure that nothing is missed. The hotel restaurant offers both Chinese and Western food and also has great views from large panoramic windows. The bizz jet parking apron is only a five minute walk from the hotel.
Photos:
**
No official reports however the sample room shot below illustrates the view available.
Value:
Stars
Great value from around £50 a night.
Book:
 
The hotel can be booked through this  AGODA link which gives very good deals at this particular hotel.
Comment!
 
If you want to add or update anything, please use the comment form at the bottom of the page!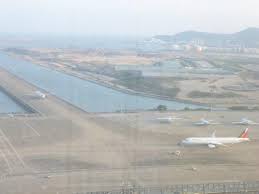 Above : An airport facing room gives the above impressive views out onto the airport