Radisson Blu Airport Hotel (Formally Radisson SAS)

o

ffers the best opportunities for spotters wishing to visit Gardermoen due to it's central location and views of the domestic pier from certain rooms.

Location:
***
A fantastic location for this hotel. The hotel is situated near to the central terminal complex and is therefore ideal for a walking base to the car parks and terminals.
Spotting:
**

Depends on the room you are allocated. Ask for a high level room facing the airport and you should get views of the domestic ramp

Photos:
**
Shots of the domestic ramp can be obtained from certain rooms.
Value:
*
Quite expensive, although probably worth it when considering the location and the photo / spotting opportunities. A twin room at a weekend costs about £105 rising to £125 during the week.
Book:
The hotel can be booked through any of the following link. The best option is the Radisson Blu Website where you can enter your room request at booking. A cheaper alternate is occasionally the site of

Booking.com

Comment!
If you want to add or update anything, please use the comment form at the bottom of the page!
Our hotel links usually offer the best value for money, however if you want us to check if there are any better deals prior to booking please use our price beater form to obtain a quote
---
Comfort Hotel Runway
offers the best opportunities for spotters wishing to visit Gardermoen due to it's central location and views of the domestic pier from certain rooms.
Location:
***
This hotel is perfectly situated next to the GA ramp, very near Runway 01/19 left, and many rooms have panoramic views over the airport. The hotel shuttle is rather expensive at 70 NOK[app.£8]each way, however a much cheaper alternative is to use local Ruter bus no.855 from the Airport bus terminal to the Gardegutia bus stop, from here its only a 2 minute walk to
the hotel. Prepaid single tickets cost only 30 NOK[app.£3.50], and can be bought from
the Ruter service centre situated between the Domestic and International
gates on the arrivals level
Spotting:
***

If you get high rooms facing the airport then you will see everything,and most movements should be able to be read off with decent binoculars, but with SBS you will miss nothing. Alternatively you can walk about half a mile up the road past the GA terminal to the SAS museum, and in their grounds they have a raised wooden platform giving excellent views over the field.

A further report below credit Mark Williams

I have recently returned from a one night stay at the Comfort Hotel RunWay at Oslo Airport. The hotel is nicely situated next to the perimeter fence overlooking Runway 01L/19R. To get there from the airport you have a couple of options – the more expensive dedicated S44 hotel shuttle bus at 70NOK or the cheaper normal service bus 855 which involves a short 2 minute walk from the stop to the hotel.

I had emailed the hotel beforehand requesting a high floor room overlooking the airport and they replied very promptly saying a suitable room had been allocated. True to their word, they had reserved me such a room and with the minimal of fuss from an efficient front desk I was ready to spot. The fourth floor room (which is the top floor) contained a number of suitable rooms – 4015, 4017, 4019, 4021, 4023 and 4025 all being noted as among those suitable for our needs. Before I go any further, may I make a small request of my own.

Runway 01L/19R is right in front of you and everything can be easily read off with binoculars. The hotel grounds actually end at the perimeter fence. There is an issue with trees in these grounds, and this will be to a greater or lesser extent from each individual room. However, there should be sufficiently gaps from all to ensure nothing on this runway would be missed. Views over to the terminal are again affected by the trees, although the gaps will allow at least some sections of the piers to be seen. Where they are, reading the registrations off was no problem. Cargo was parked opposite the hotel, and so being tail on could not be read off. Runway 01L/19R seemed to handle the majority of the domestic or short regional traffic, and while this is probably favoured at first, the repeats start after about 5 or 6 hours, and after about 24 hours, little lands that has not already been seen. However, much of the long haul traffic seemed to depart (not land) from this runway – including Norwegian B787's, Thai B777's and a SAS A330. While this can't of course be guaranteed (the Qatar B787 for instance went off Runway 01R on one day and 01L on the other), from your perch at the Comfort Hotel RunWay most of the widebody movements were read off.

The other runway (01R/19L) is just out of range for reading with binoculars (particularly of course as it is through glass and at an angle). However, seeing everything land on Runway 01R was no problem, so identification with SBS would ensure nothing is missed. They landed on 01R/01L during my entire stay – I imagine trees would mean if they were landing on 19L it would not have been so easy to even see them, so runway use could affect your logging considerably.

One thing I must mention. While the rooms are more than adequate, they only have a long thin window, which is set quite low. Not only does this mean the room is quite dark, but at 6ft, I had to bend down to actually see out (if you are 5ft it would be about perfect). However, if you settle down for a long spotting session, you will no doubt be seated, and I could see out of the window from a chair. The room by the way was priced at 849NOK (roughly £84) which included a half decent breakfast – not bad for this location. There is a restaurant and a small snack area, and although there are other hotels nearby and a large conference centre, there appeared to be no other local places to get provisions. Apart from the excellent view of the near runway that the hotel affords, it is also well placed to reach the SAS museum, which contains a small spotter's terrace which is permanently open.

The museum itself is only open on Tuesday and Sunday. About a 15 minute walk, head out of the hotel and turn right on Hans Gaarders Veg. Keep heading along this road (running virtually parallel with the perimeter fence) and you will come to the museum and the raised spotting terrace. A quick look at google maps will show the way. The terrace is a wooden structure, accessed via a few stairs, and gives a good panoramic view of the airport. The parked West Air ATP's (out of sight from the hotel) are right in front of you, and I could also read off the inhabitants of the cargo area (as well as a couple of biz jets in the GA area for those so inclined). The view of runway 01L/19R is restricted to about half the runway at one end but is very close with an excellent view of traffic departing off 01L. I imagine the views of traffic landing on 19R would be equally as impressive.

When I was departing I met an extremely helpful lady from NSSF – The Norwegian Plane Spotter Association who kindly gave me a copy of their viewing guide and offered advice as to the best spots. Check them out and show your support – they clearly do some good work to ensure that such facilities exist for us all. It appears that the majority of spotting locations for Runway 01R/19L require a car. All the long-haul traffic landed on this runway during my stay (but, as previously mentioned, the majority departed off the near 01L/19R runway). Most of the international traffic from Europe (if not all) seemed to land on 01R/19L and much went out that way too, so, for a registration reader, expect to miss some frames. While my success rate out in the open air and side on from the viewing terrace of departing traffic from 01R improved, it is still quite a long way away so success is by no means guaranteed. However, if the weather is good (there is no shelter here), this would be an extremely nice place to spend a few hours and is highly recommended.

Movements wise, Oslo was actually busier than I had expected. Norwegian and SAS dominate as you would expect with their B737's, although there was a healthy number of Wideroes Dash 8's (ILS, WFO,WFU, WIA, WIC, WIG, WII, WIN, WIV) in action also. 3 different Norwegian Dreamliners (EI-LNC/ LND and LNE) were seen in the 24 hours, a daily Thai B777 (TKN and TKU), Qatar B787 A7-BCK (with the other unidentified as it landed and departed off 01R), a SAS A330 (LN-RKN), Primera B737 (OY-PSG) and Novair A321 (SE-RDN) while cargo offered N302UP of UPS, OY-JTK of Jet Time and EI-SLA of Air Contractors. Overall, an extremely enjoyable 24 hours in Oslo which, like the hotel and spotting terrace, comes highly recommended. Cheers Mark

Photos:
***
From rooms facing the Runway and the airport this should be excellent, Otherwise as said earlier walk the short distance to the SAS museum
Value:
**
Value: For Norway this is reasonable value at £80 for a twin room with buffet breakfast, and £111 for a triple room with buffet breakfast
Book:

To be taken to the hotel website please Click Here

Please help support our site. We are constantly checking the links for hotels to find the best price offered for our readers. If the price on this site is the best quote you receive, please help us by booking your hotel from the link provided as we receive a small commission payment from the hotel. This helps contribute to the running costs of this site enabling us to continue to offer a great service

Comment!
If you want to add or update anything, please use the comment form at the bottom of the page!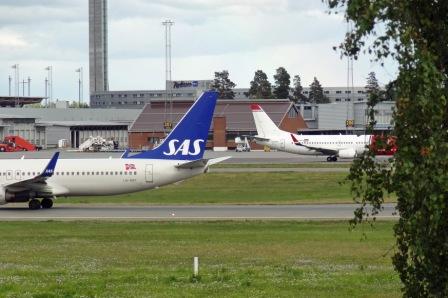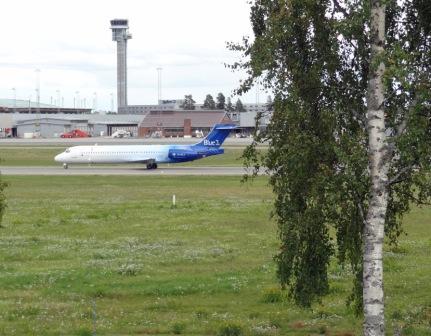 Above : Airport facing rooms give the excellent views shown above. Credit : Mark Williams
OTHER HOTELS LOCATED NEAR TO THE VIEWING AREAS
The Runway 01L viewing area detailed here has a number of hotels in the vicinity which are only a short 5 minute walk away. These hotels include The Scandic, Gardemon airport hotel, Best Western, and the Airport Hotel and apartments. Note, if hotels in this area charge a lot for their airport shuttles, use the local Ruter bus service no.855 from the airport, and get off at the Lilleplanne stop as this is less than 5 minutes walk to the hotel.This bus costs only 30 NOK each way for tickets bought in advance from their office in the terminal
With thanks to Bill Drury for his excellent feedback on all the above hotels
---