Novotel Taipei Airport                                     Last Update 2019

 
Location:
**
Located between the thresholds of Runways 05R/05L, behind the maintenance hangers 
Spotting:
**

Report from Paul Moiser

I'm staying in room 746 which has excellent views of the whole field. Room 746 is large Double bed room. All rooms 738/736/734/732 and 764/762/758 all face towards the airport and runway and taxiways. The same views apply from the 8th and 9th floors The 9th floor is the hotels Premier floor and cost more to stay on this level. There's two taxiways that run all the way down to each side of the hotel and there's also two parking areas either side of the hotel where some aircraft park up overnight. There's a window at the end of one the corridors outside room 764 which overlooks one these parking bays as well as giving the same view from the room in room 746. Like lastnight when I landed all day today arrivals and departures have been towards the hotel and all could be read off, also those parked up on the nearest gates could also be read off, once it went dark, however having your SBS with you will ensure nothing is missed.

Most of the aircraft are parked outside, and the museum is linked via a walk path from the hotel so its less than a 5 minute walk away if you wish to visit. 

The hotel has free wifi in all areas. You can order room service or eat in the hotels restaurant which serves a full buffet every evening which is where I ate lastnight. The all you can eat buffet cost me 850TWD which is £17! and included all soft drinks etc. Buffet breakfast in the same restaurant is where I ate this morning and that cost me 550TWD which is £10. If you don't wish to pay hotel prices you can catch the hotels free shuttle bus ( I did that this evening) which runs every 30 minutes and it drops you off at either T1 or T2 where you will find plenty of places to eat on the upper level of both terminals. There's also a 7 Eleven store which is very cheap selling plenty of snacks etc and cold cans of soft drinks for just 15TWD (23p) the hotel charge 120TWD for the same size can !! There's a Burger King and a couple of other nice eateries all at good prices. 

Report from Andy Kelly:

Staying at the Novotel at the moment in room 720, like the other comments have said, its great views from your room. You can see all arrivals and departures but you need flight tracking equipment to tie everything up, you can also see some arrivals going into Songshan airport.

Rooms are very good with a big window to view from. The buffet restaurant is very nice, breakfast was included with the price of the room, wide choice of local or western food, evening buffet is also very nice food. It works out about £23 which is good value, you shouldn't leave hungry. Getting your snacks and drinks is a little more hard work than usual, there is no shop in the hotel and there is no shops around the hotel. Just jump on the airport shuttle back to the airport and there are snack shops there and get the hotel shuttle back, not even an hour round trip. All in all a great hotel to spot from and looking forward to visiting here again one day.

Photos:
**
I took plenty of photos today however I've only saved 40 of them as the weather has been dull with lots    of rain and when the sun did appear it was very hazy so the photos aren't the best !! however you can get a better idea of the place by clicking on the links below to see the ones I took today. Some  photos were taken from the room, and I also spotted from outside at the back of the hotel where I took most of the departure shots. I was there a few times during today in between the heavy thunder showers and I wasn't bothered once by anyone.
Value:
 **
Rooms available from £80 a night.
Book:
 

The hotel can be booked through any of the following link: Booking.com 

Please help support our site. We are constantly checking the links for hotels to find the best price offered for our readers. If the price on this site is the best quote you receive, please help us by booking your hotel from the link provided as we receive a small commission payment from the hotel. This helps contribute to the running costs of this site enabling us to continue to offer a great service.

Plane Spotting Hotels are also pleased to have entered a partnership with an ATOL approved travel agency which specialises in packages for plane spotters (your travel consultant is a fellow aviation enthusiast who understands your needs). An independent travel agency can often find you better deals for your hotels as they can access travel agents exclusive deals, especially when packaged in with flights or car hire as many suppliers offer further discounts. 

Quote The Plane Spotting Hotels website when contacting the NOT JUST TRAVEL WEBSITE and you will be dealt with by the Plane Spotting Travel Expert who can assist you with all aspects of planning your trip.

Comment!
 
If you want to add or update anything, please use the comment form at the bottom of the page!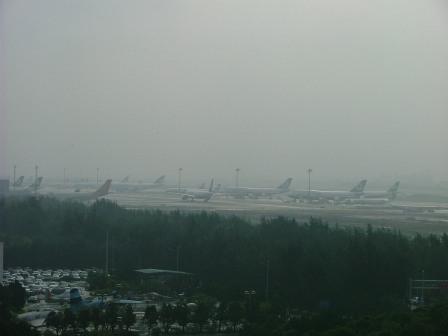 View from Room 746.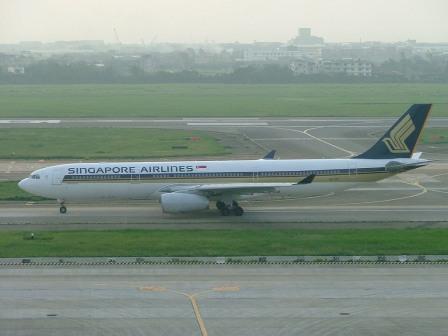 A window at the end of the corridor allows taxiway shots like this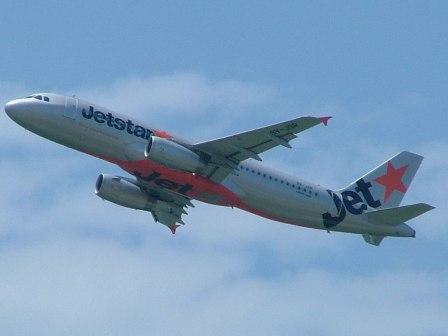 By standing at the back of the hotel, good departure shots can be taken when the 23's are in use.
Credit : Paul Moiser. Further shots from the hotel can be viewed at Pauls Flickr page 
Plane Spotting Hotel-Taipei Songshan Airport
Taipei Marriott Hotel
The busy domestic airport is found in central Taipei, the high rise Marriott Hotel giving good views over to the runway and terminal. The airport is too distant for photos, however airport facing rooms give panoramic views over to the runway and terminal. All aircraft can be seen from here although flight tracking will be required for the majority of tie ups. The airport is only a short taxi ride away from the famous Airport Alley where great photos can be had at the end of the runway.
This hotel is probably of use to those staying in central Taipei on business or vacation, or maybe those wanting a quick night stop to catch the domestic fleets.
The hotel can be booked through any of the following link:Booking.com