Best Western The Plaza                                             Last Update JAN 2020
 Note, there are two Best Western Airport Hotels in Honolulu. The official Airport hotel is low rise and has no airport views, you need the Plaza hotel.
Location:
***
Reported to be the nearest hotel the terminal buildings at Honolulu. Honolulu is not the easiest airport to view at, however this hotel ensures that the majority of movements can be seen
Spotting:
***
Try to obtain a high, south facing airport view on the 9th-12th floors. Rooms ending in 16-20 give views over the runway towards the freight area as shown below. Most aircraft arrive on the Runway in front of you, and many local carriers also depart from here. The distances involved and heat haze can cause problems reading aircraft off at times so flight tracking software is required for a full log.

The terminal buildings and car park can obscure views of the western part of the airport although landing traffic on Runway 08L can be seen prior to touchdown.

Room 1220 has often been reported as a good location. It is a corner double room with a good view over to the airport.

Photos:
**
Pretty good quality photos can be taken from the room as shown below. A zoom will ensure reasonable taxyway and runway shots
Value:
**
From around £80 per room per night
Book:

If you are looking to make your own travel arrangements please click on AGODA or Booking.com to be taken directly to the hotel information page. Please help support our site. We are constantly checking the links for hotels to find the best price offered for our readers. If the price on this site is the best quote you receive, please help us by booking your hotel from the link provided as we receive a small commission payment from the hotel. This helps contribute to the running costs of this site enabling us to continue to offer a great service.

Comment!
If you want to add or update anything, please use the comment form at the bottom of the page!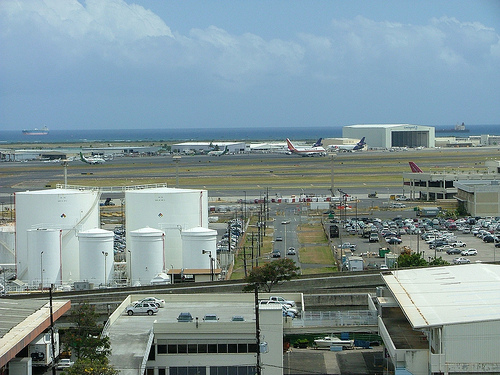 Above. View from room 1216 of the Best Western Plaza, giving views of the freight area as well as Runway and taxyway.
Credit Paul Moiser
For those who are visiting Honolulu on vacation with their partners The Ashton at the Executive Hotel in the downtown area offers views of the airport and Hickam Air Force Base from  a harbour facing room. Flight tracking software is required and the room is only suitable for day time operations only due to the range from the airport.
---