Best Western The Plaza
 
Location:
***
Reported to be the nearest hotel the terminal buildings at Honolulu. Honolulu is not the easiest airport to view at, however this hotel ensures that the majority of movements can be seen
Spotting:
***
Try to obtain an airport view on the 9th-12th floors. Rooms ending in 16-20 give views over the runway towards the freight area as shown below. Most aircraft arrive on the Runway in front of you, and many local carriers also depart from here.
Photos:
**
Pretty good quality photos can be taken from the room as shown below. A zoom will ensure reasonable taxyway and runway shots
Value:
**
From around £80 per room per night
Book:
 

To be taken to the hotel website please

 Click Here
Comment!
 
If you want to add or update anything, please use the comment form at the bottom of the page!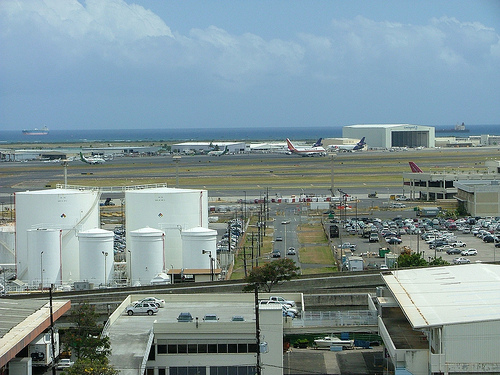 Above. View from room 1216 of the Best Western Plaza, giving views of the freight area as well as Runway and taxyway.
Credit Paul Moiser
A list of other airports in the vicinity of Honolulu Airport can be found here
---