Hilton New York JFK (Formally Holiday Inn)
 
Location:
**
A 2 mile journey to the central terminal area by shuttle bus. An extra bonus of this hotel is the airport shuttle bus will also take you to La Guardia, check with the hotel for times. On a clear day traffic flying from Philidelphia and Washington can be seen clearly overflying the hotel at high level for those with a SBS.
Spotting:
**
Good, but sometimes distant views from the hotel. A good telescope will give you more of a chance to read aircraft off although ACARS/SBS would make things a lot easier! Ask for an airport facing room as high as possible. Room 1228 gives good views, photos shown below. With the use of SBS our correspondent identifies every aircraft during the day. If you are in a group we recommend that one of the groups book a room facing away from the airport. From these rooms distant views of arrivals can be seen into La Guardia Airport.
Photos:
**
Souvenir shots can be taken from the hotel as shown below.
Value:
*
Expensive at around £175 a night
Book:
 

This hotel is available through the sites of The Hilton  Hotel or  AGODA who can occasionally offer better deals.

Please help support our site. We are constantly checking the links for hotels to find the best price offered for our readers. If the price on this site is the best quote you receive, please help us by booking your hotel from the link provided as we receive a small commission payment from the hotel. This helps contribute to the running costs of this site enabling us to continue to offer a great service. In the event that we do not offer the best price, please complete the  price beater form and we will try to search you out a better deal.

Comment!
 
If you want to add or update anything, please use the comment form at the bottom of the page!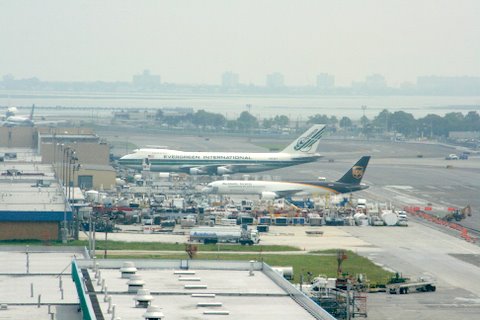 Above, the views from room 1228, Holiday Inn JFK. Credit Andy Whitmore
---