Star City Saigon Hotel

 is situated to the South East of the airport. A report from our well travelled correspondent Paul Moiser is shown below. There is also additional information of further viewing facilities nearby as well as how to obtain your visa.

I came across a few hotels which were just over a mile from the airport, and I emailed everyone of them asking if the airport could be seen from their higher floor rooms, and all the hotels replied back saying the airport could not be seen due to the hotel not facing that direction etc apart from one hotel which did reply back with a very positive response being the Star City Saigon Hotel basically saying I have been up to the highest floor and had a look for you and can confirm you can see the planes taking off, but not from the runway.

After I got my passport stamped and after collecting my luggage I was greeted by a very nice Vietnamese lady holding a board with my name on it. She took me to my driver who was waiting for me to take me to the Starcity Saigon hotel. At check-in I was given the promised upgrade to the executive floor in room 1120 on the 11th floor. From the room you have an amazing view of the busy business district below as well as downtown. Also in view is the airport control tower and I only had to wait less than 2 minutes before I could see a plane taking off and much to my surprise part of the runway and taxiway could also be seen so I knew I had made the right choice in the end. As the distance looking out towards the airport is just over a mile away, the traffic is a little too far away to actually read off easily, so if you plan on staying here you will need your SBS. Between the hotel and the airport there are numerous buildings in the way, however you can clearly see the control tower, and part of the runway and taxiway in between the buildings so if your happy using your SBS you can easily make out all the traffic once landed or on departure. Included in the room rate is free breakfast and free wireless internet.

Location:
*
Distant from the airport (about 1 mile away), however a short taxi ride away from the roof of the nearby cafe, where good viewing is available.
Spotting:
**
Book a high level executive room asking for a view towards the airport. Flight tracking required as movements are too far away to be identified.
Photos:
*
Distant souvenir shots available
Value:
**
Rates start from £60 a room
Book:
 
This hotel can be booked through AGODA or  Booking.com
Comment!
 
If you want to add or update anything, please use the comment form at the bottom of the page!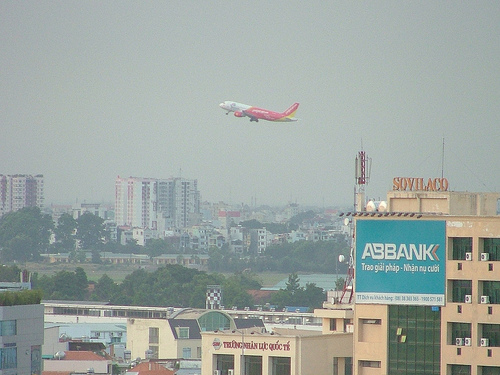 View from room 1120 of The Star City Saigon Hotel. Credit Paul Moiser-see more pictures from his worldwide trips here
Visa Requirements
For those that have never been to Vietnam and fancy a trip here a visa 
is required. You can get your visa prior to departure by sending off 
your passport to the Vietnamese Embassy, or do what I did and arrange 
your visa on arrival which was cheaper and worked out very well. 
 
I chose http://www.myvietnamvisa.com/ to arrange my visa. Basically 
you fill out an application form on their website, with details such 
as your name, passport number and expiry date and your intended date 
you plan to arrive in Vietnam, and 2 days later you will receive in 
your inbox an invitation letter with your name on it as well as your 
passport number and your date of birth. The charge for the Invitation 
letter is £11, and this paid directly on their secure website after 
you've completed your application form. Once you've received your 
letter in your inbox print this off and take it with you as you'll be 
asked by your airline at check-in if you have a visa? you then show 
them the invitation letter which is suffice to allow you to board for 
Vietnam. 
 
Prior to departure you will need as well as your invitation letter two 
passport size photographs. On arrival in Ho Chi Minh proceed to 
passport control as normal. Once at passport control there is an 
office which is signed 'visa on arrival' You will need to queue here 
at this office for your final documentation which is in fact your visa 
stamp in your passport. This is charged at $45 for a single-entry 
trip. Prior to getting your stamp in your passport you'll be asked to 
fill out a small form, once you've completed it hand it back in at the 
same office then you'll be asked to take a seat while they process 
your visa. I was sat down less than 5** minutes before my name was 
called back to office where my passport was handed back to me with a 
rather nice looking Vietnam sticker stamp inside it, at this point you 
pay the $45, and then you can proceed through passport control. 
**Recent reports indicate waits of around 1 hour for the visa.
 
The total cost for arranging the visa this was was less than £30, 
compared to the £50+ the embassy charge, and I have to be honest it 
was all hassle free. All the details mentioned above can be found on 
http://www.myvietnamvisa.com/ on their FAQ page. 
Nearby Viewing
Take a taxi from the above hotel to the CT Plaza shopping centre which is located facing the airport. The journey took less than 5 minutes and cost 50,000 VND which is around £1.50. Once inside the CT Plaza take the elevator up to the 11th floor which is where the Moonlight coffee lounge is located. This open air cafe overlooks the whole airport and everything that moves can be seen and read off. I arrived here at 11am and left at just after 4.30pm and I enjoyed every minute of just chilling in the hot sunshine spotting and photographing while enjoying some cold beers priced at 33,000 VND each 
which was around 96p each! 
 
The cafe is advertised as open from 0700-2300. It is a very pleasant place to go. The waiters now appear to be used to aircraft spotters and we've had reports that they will escort you to the tables with the best views. Food and drink is of good quality and is very economical by western standards.
Here are the views from the Moonlight coffee lounge.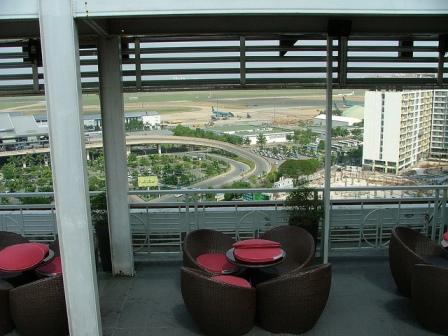 Note: Whilst no problems were encountered on this trip and the locals were friendly, planespotting may not be understood by all in this part of the world.
---