Hilton Garden Inn 
is located extremely close to the airport – and we mean extremely close to the airport!! Take a look at the picture below if you doubt us.  The hotel is actually situated next to the Experimental Aircraft Association and Museum and offers a great place to stay for the famous fly in. Many rooms have views of the airfield and aprons, and even if you are unlucky enough to get a room facing away from the airfield, you won't have far to walk to find a good view.  Alternatively, the Lindberg Lounge overlooks the runway. 
Location:
***
Perfect!
Spotting:
***
Great views of the runway from certain rooms and also the Lindberg Lounge.
Photos:
***
With aircraft this close to the hotel expect to get some great photos.
Value:
**
 Prices start at a typical price of £60 for a twin room.
Book:
 

This hotel can be booked through the AGODA website

For other hotels in the Oshkosh area please click here

Comment!
 
If you want to add or update anything, please use the comment form at the bottom of the page!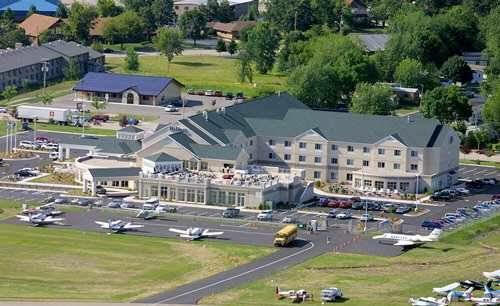 Above: Probably the nearest that you will ever get to the action at an Airport hotel!
---