Marriott Philadelphia Airport       Last Update 2020
is situated right at the centre of the airport. Connected to Terminal B by a skybridge, this hotel offers spotters a great chance to make inroads into the American fleet. 
Location:
***
Very conveniently located so close to the terminal.
Spotting:
***

When reserving a room ask for a high floor number and for a room overlooking the airport. If you get both of these options you will not be disappointed. From these rooms expect to read off about 95% of the traffic with a good pair of binoculars.

You will have great views of the two parallel runways and many taxiways. There is a crossing runway which is mainly used by commuter traffic which can be a bit more tricky, but thankfully the vast majority of the traffic uses the two parallel runways. Even at night you will still read aircraft off courtesy of a well lit taxiway between the American and Delta gates.

Photos:
**
No actual reports but there seems every likelihood that there will be opportunities for photos with long lenses. A typical room view is shown below.
Value:
**
Not particularly cheap, but when you consider the location of the hotel and the spotting opportunities, it must be considered well worth it. A twin room at weekends is approximately £73.
Book:
 

For a guaranteed spotting room select the room with a view option on the website of booking.com

Please help support our site. We are constantly checking the links for hotels to find the best price offered for our readers. If the price on this site is the best quote you receive, please help us by booking your hotel from the link provided as we receive a small commission payment from the hotel. This helps contribute to the running costs of this site enabling us to continue to offer a great service

Comment!
 
If you want to add or update anything, please use the comment form at the bottom of the page!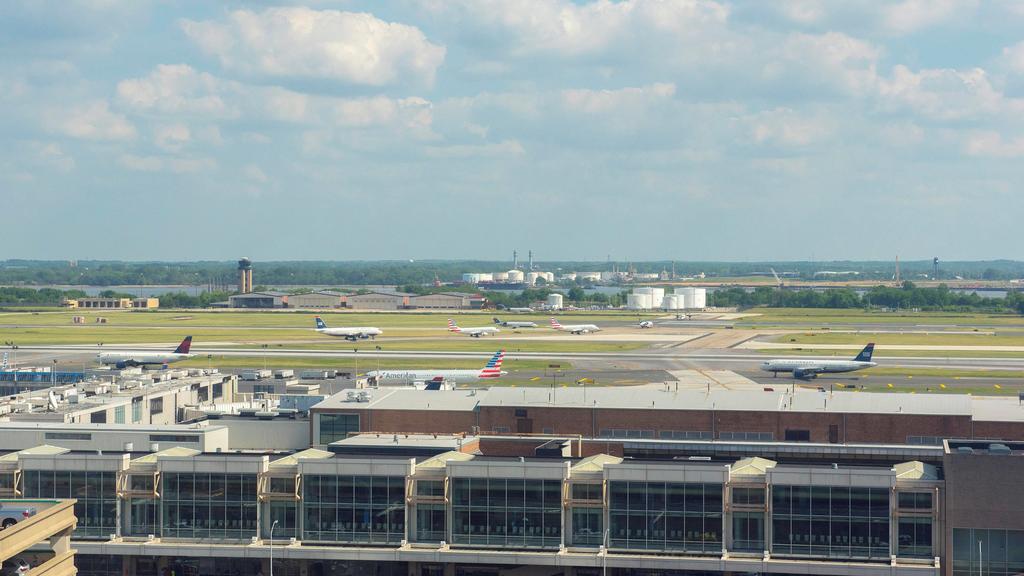 Doubletree by Hilton Philadelphia Airport
The Marriott above will always give the best views however the Doubletree offers a more cost effective option for those on a budget. Airport facing rooms give views over to the American commuter ramps, partial views of the non American piers and good views over the cross runway.
The busy main runways can be seen out in the distance however flight tracking software is required for tie ups. The hotel is also very close to the GA terminal, and freight apron for the commuter types of aircraft. Room 915 has confirmed views similar to below. 
The hotel can be booked on the website of booking.com 
Please help support our site. We are constantly checking the links for hotels to find the best price offered for our readers. If the price on this site is the best quote you receive, please help us by booking your hotel from the link provided as we receive a small commission payment from the hotel. This helps contribute to the running costs of this site enabling us to continue to offer a great service