Sheraton Gateway Hotel
Is a fantastic hotel located conveniently at the heart of the busy Toronto Airport on top of Terminal 3. Many reports from spotters suggest that this is far and away the best hotel for spotting. The hotel is linked with Terminal 1 by an automated train service taking just 3 minutes
Ask for a room overlooking the airport as you will then have spectacular views of Runway 15L / 33R and many associated taxiways.
The report below from Dave Parker gives further details : I requested a high room with a view and was contacted by the hotel offering a club upgrade for C$30. This guaranteed top floor and free Internet, breakfast and evening snacks. I was duly given room 846 and was not disappointed. The views were fantastic across the ramps, and with traffic landing on left and right runways towards he hotel nothing could be missed with either optics or SBS. Although Terminal 1 is not viewable, most aircraft taxi in front of Terminal 3 in transit to and from the runways. For the photographer, the views through glass are not perfect. There is a tint and you have to search out a sweet spot for best clarity. I have updated my phanfare site so you can view a collection of photos there to get a feel for what is possible. http://aircraft-worldwide.phanfare.com/
On the whole though this I would say is one of the best hotels for views. I did check the layout and it looks like rooms in the 827-837 and 843-853 would give similar views and presumably floor 6 and 7, although I suspect level 6 might have some terminal structure blocking some of the views. I do recommend the club floor as there is 24hr access to the lounge with Starbucks Coffee and soft drinks on tap. Evening nibbles were good with Seafood salads , crab cakes and spring rolls for example and more than enough to save a trip to the restaurant.
Some great deals can be found at this hotel on the Booking.com website.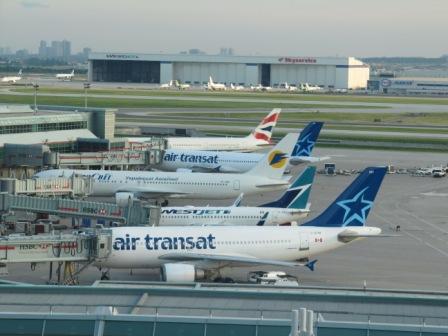 Typical view from the Sheraton. Credit Mark Curran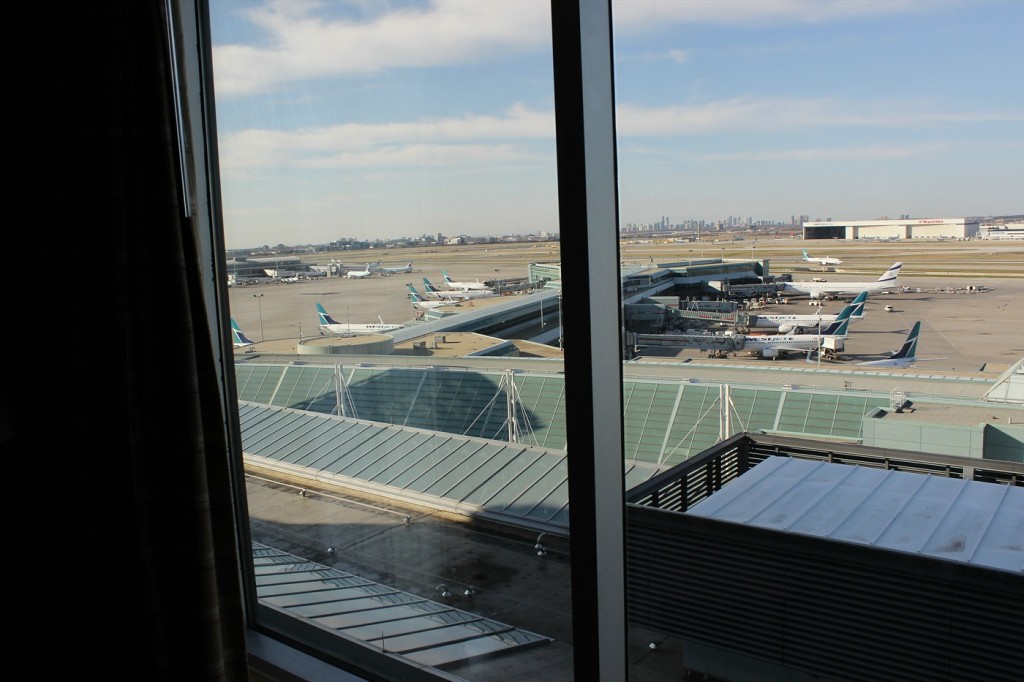 View from Room 846 at The Sheraton. Credit Dave Parker
Hilton Hotel Toronto Airport
The Hilton is located just a few minutes away from the airport. The hotel offers a free shuttle bus to all terminals, although it is probably just as quick to walk if you do not have heavy bags! Try and get a room on the 5th floor or higher facing the airport. From here you will have views of the aprons between terminals 1 and 2. With a good pair of binoculars or a good telescope you will not miss much. However, do not expect to get any decent photographs due to the clutter in the foreground.
Some great deals can be found at this hotel on the Booking.com website.
ALT Airport Hotel
The ALT Hotel can often offer more affordable rooms than the hotels shown above although is more distant for photography.
The Alt airport hotel is connected (5 mins) on the free monorail ie Terminal 1,then Term 2 Sheraton) next stop is the Alt hotel and car parks, from here it is a 1 Minute walk .The hotel is 2 years old, self service food (24 hours) and has a bar that stays open until 2 am.(Tea & coffee facilities In room).
Report 1
Asked for a room with views of the aircraft and the lady at front desk who was extremely helpful and pleasant said room 1010 (corner room with two large windows giving clear view over the whole airport, comfy queen bed and aircon) will give great views, boy was she right, I had views of holding points for runway 24L/R also final approach to runway 23, I could also clearly see all departing aircraft in the climb from these runways.
From the room I could see all the Biz parked outside the Skyservice hangar/ramp and with persistence (heat haze) most could be read off using Bins 20×50 & pole. SBS wise signal was blocked out from approach (from behind hotel) until @500 Ft from touchdown though nothing missed. You also get free wifi with a great connection in room. Can highly recommend this hotel, I think any rooms on the corner, 9th floor and higher(14 floors) will give excellent views, just ask the staff as they are very helpful.
Report 2 Credit Carl Taylor July 2023
Room 1010 continues to give good views. Similar views can be had from 1110, 1210 and 1310. Floor 14 is the gym with further views over to the Fedex apron. Unfortunately there is no room 1410 on this level.
Some great deals can be found at this hotel on the Booking.com website.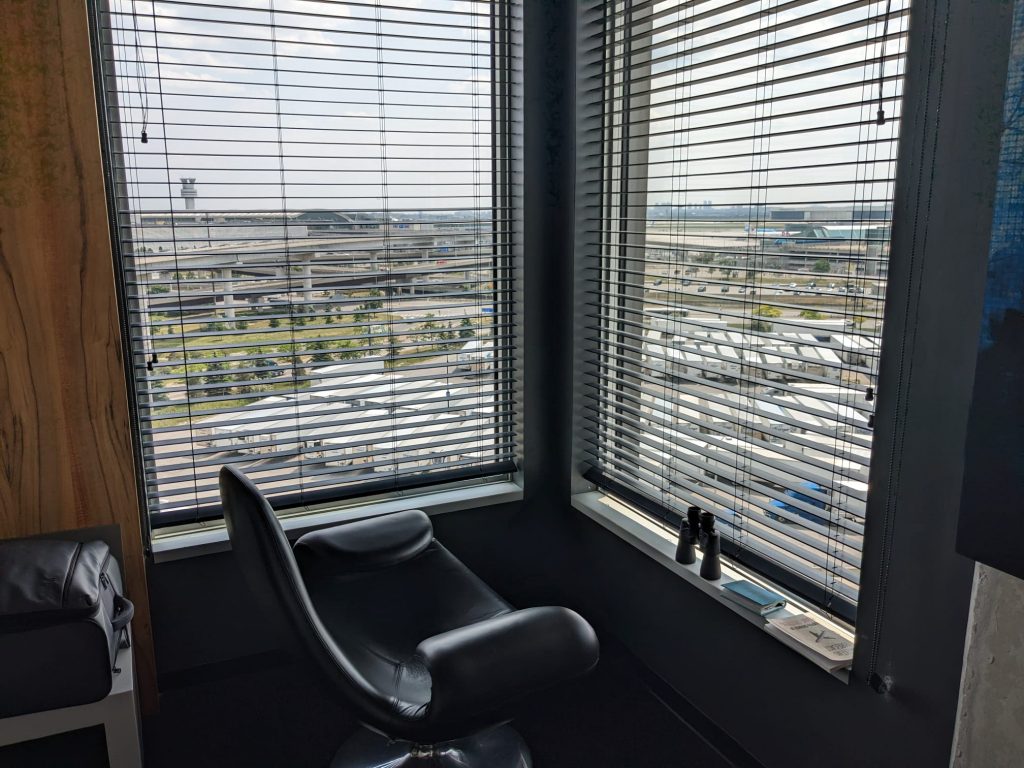 Above: View from Room 1010 at the ALT Hotel, Toronto Airport.